100% Maui Mokka - Full City Roast
Sale price

$44.99

Regular price
An heirloom varietal, tiny bean that packs tremendous flavor. A silky smooth, full-bodied cup with flavors of dark chocolate, plum, and warm spice with well-balanced acidity and a crisp finish.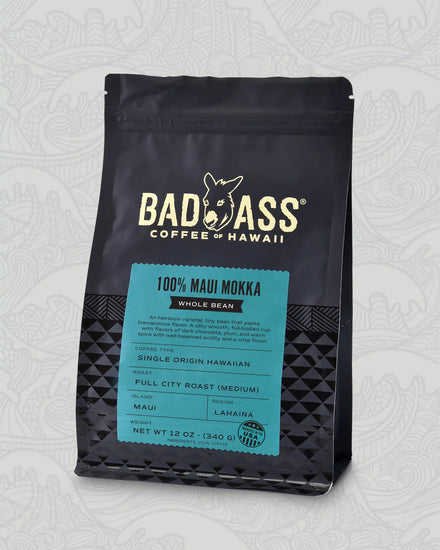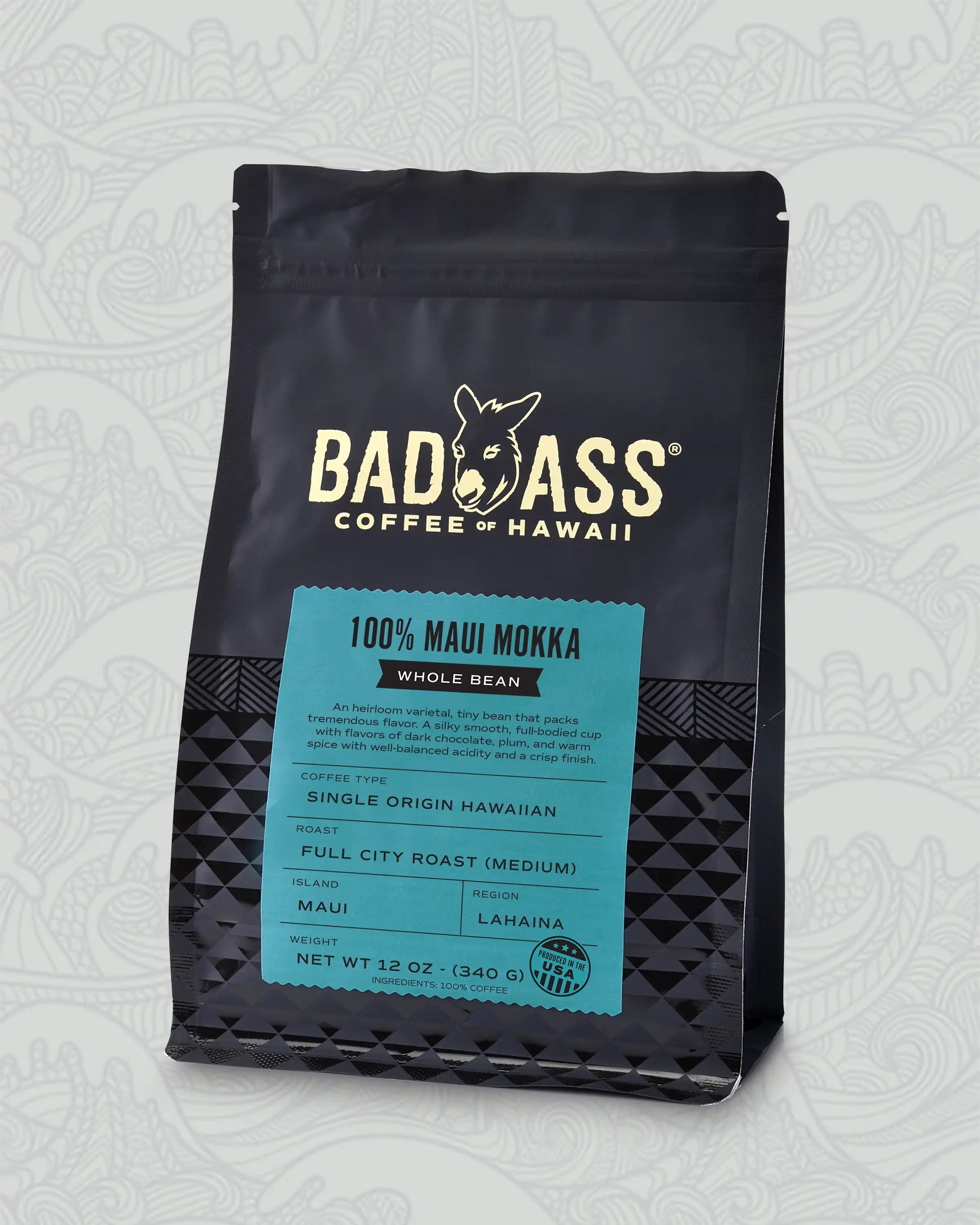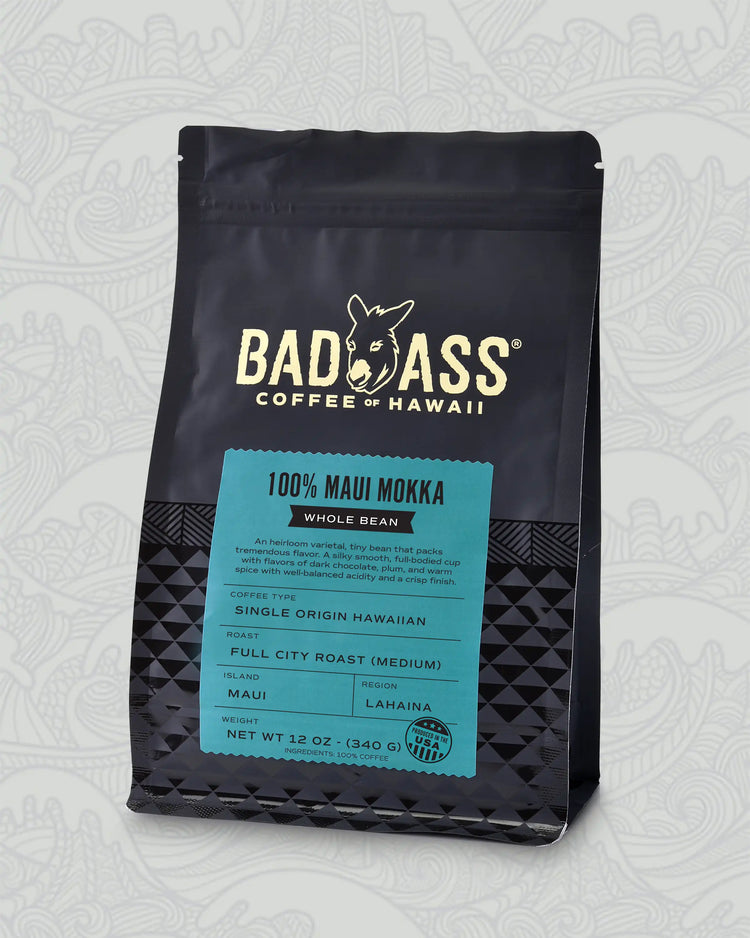 ROAST LEVEL

Full City / Medium
TASTING NOTES
Dark chocolate, plum, and warm spice
Varietal
Maui Mokka®
Grown in
Lahaina, Maui
Elevation
200-900 FT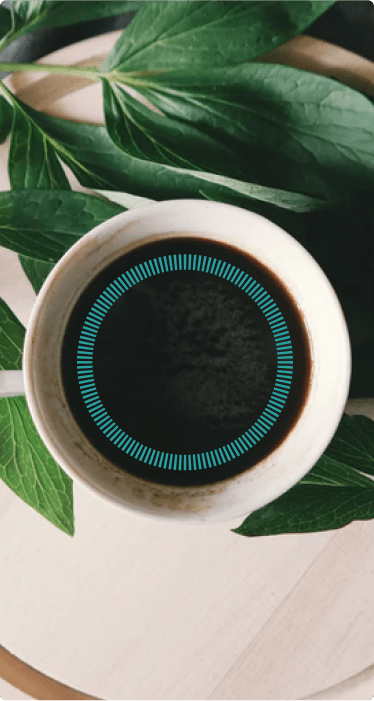 Silky Smooth, Full-Bodied Cup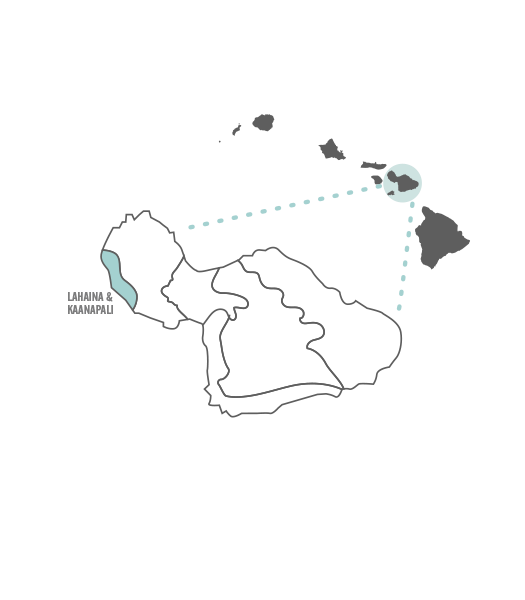 Lahaina, Maui
Maui island is often cherished for its road to Hana and the spectacular Haleakalā National Park. In days past, as in much of Hawai'i, it was known for its vast fields of pineapple and sugarcane. As those crops departed, coffee began to rise again on Maui. There are now two significant regions growing coffee on Maui: Upcountry and Kā'anapali.
Total 5 star reviews: 7
Total 4 star reviews: 1
Total 3 star reviews: 0
Total 2 star reviews: 0
Total 1 star reviews: 0
100%
would recommend this product
What is your preferred brewing method?

Drip

How do you like your coffee?

Black

What is your preferred roast level?

Medium / Full City,

Medium - Dark

Coffee Product Standouts

Great Quality,

Amazing Flavor,

Perfect for Brewing at Home,

Well-Roasted

So good!

We purchased this roast thru a Facebook ad, as a fundraiser for the people of Lahaina. I am SO glad we did! Maui Mokka is a delicious, full flavored roast. The beans are smaller than what we usually purchase and the flavor is bigger than the beans! Highly recommend this coffee!

Coffee Taste

Rated 5.0 on a scale of 1 to 5

BA

Bad Ass Coffee of Hawaii

10 seconds ago

Aloha Lisa. Mahalo for taking the time to leave a review and thank you for taking part in our Maui fundraising by ordering some coffee! Maui Mokka is a special blend in that the beans are a lot smaller than your typical beans but like you said, they pack a punch of smooth flavor! Mahalo!

What is your preferred brewing method?

French Press

How do you like your coffee?

Black

What is your preferred roast level?

Medium / Full City,

Medium - Dark,

Dark / French

Coffee Product Standouts

Great Quality,

Amazing Flavor,

Perfect for Brewing at Home

Great coffee

The flavor is perfect! We bought a bag of this on our Maui adventure. Every time we enjoy a cup it takes up back to the beautiful memories made on that trip

Coffee Taste

Rated 5.0 on a scale of 1 to 5

BA

Bad Ass Coffee of Hawaii

1 month ago

Aloha David! Every sip of our Bad Ass Coffee is a journey to the big island vibes. Happy to hear that our Maui Mokka transports you back to you're own beautiful experience from Hawaii! Mahalo!

What is your preferred brewing method?

Other

How do you like your coffee?

Dairy or Alternative Milk

What is your preferred roast level?

Light / American,

Medium / Full City

Coffee Product Standouts

Amazing Flavor

In a Kure

Wow, great taste, just what I expect in coffee from Maui. I am using a couple of stainless steel k-cups and fill them with freshly ground beans I, ground to a medium fine level. Never thought I could get such quality, even crema, from a Kure.

Coffee Taste

Rated 5.0 on a scale of 1 to 5

BA

Bad Ass Coffee of Hawaii

1 month ago

Aloha Larry! Glad our Maui Mokka could offer a 'Kure' for your coffee fix! We value the quality of our coffee and are glad when that value of quality is appreciated by customers such as yourself. Mahalo for your review and patronage!

What is your preferred brewing method?

Drip

How do you like your coffee?

Black

What is your preferred roast level?

Medium - Dark

Coffee Product Standouts

Amazing Flavor,

Great Quality,

Perfect for Brewing at Home,

Well-Roasted

Coffee Taste

Rated 5.0 on a scale of 1 to 5

What is your preferred brewing method?

Drip

How do you like your coffee?

Sugar or Sweetener

What is your preferred roast level?

Medium / Full City

Coffee Product Standouts

Amazing Flavor

Maui Mokka

This coffee is excellent!

Coffee Taste

Rated 5.0 on a scale of 1 to 5
Reviews Loaded
Reviews Added